When it comes to delivering exceptional experiences for your clients, every detail matters—from the ambiance of the room to the quality of the oils and lotions you use. But let's not forget one of the most crucial elements in a treatment room—the massage and spa table. Whether you're running a spa, a wellness center, a tattoo shop, or even a doctor's office, having a reliable and versatile treatment table can make a world of difference in your business. But with so many tables available on the market, choosing the right one can be quite overwhelming.
Enter the Spa Series Hands-Free Deluxe Massage and Spa Table by Custom Craftworks. This table is not just a piece of furniture; it's a statement of how seriously you take your clients' comfort and your professional services. Let's delve into the details and see why this table should be your next big purchase.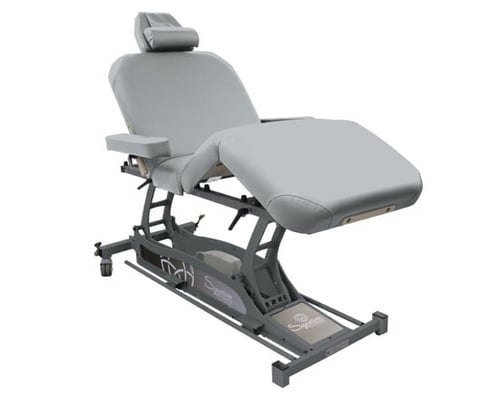 Style Meets Function
How many times have you walked into a spa and instantly felt that you're in a high-end facility, thanks to its sleek, modern equipment? The Spa Series Hands-Free Deluxe Massage and Spa Table brings such elegance right into your treatment rooms. With a custom gray base and stylish design plates, it offers a sophisticated alternative to the classic massage tables you might be used to. Plus, elegant foot bars along each side allow therapists to move freely around the table, making the client experience even more fluid.
High-End Features for a Premium Experience
What separates an average table from a high-end one are the features, and this table has them in abundance:
650 lb. Lifting Capacity: Strong enough to handle a wide range of body types, proving durability is one of its strong suits.
Deluxe Adjustable Face Rest Base: Adds an extra layer of comfort and customization, making sure your clients' experience is tailored to their specific needs.
True Touch Upholstery in a New Color Palette: A fresh take on upholstery that complements the entire aesthetic while ensuring maximum comfort.
Height Range of 17-35 Inches: Making it accessible for various treatments and adaptable to therapists of different heights.
Salon Head Support Pillow and Adjustable Neck Pillow: These offer additional comfort and positioning options, giving your clients an even better treatment experience.
Hands-Free Dual Foot Bar Control: Enables you to adjust the table's height or position without interrupting the client's experience.
Whisper-Quiet Lift System: For those blissful moments when silence is golden.
Easy-to-Operate Caster System: Makes it a breeze to move the table around.
Adjustable Back and Knee Sections: For specific treatments that require unique positioning.
Steel Base with Classic Gray Powder Coat Color: Durable and easy to clean, adding to the longevity of the table.
ADA Compliant: Making sure that it's inclusive and accessible.
When you have such a well-thought-out table, you're not just purchasing a piece of furniture; you're investing in the future of your business. It's a win-win, offering both aesthetical and practical benefits.
If you are a spa or wellness center that takes the client experience seriously, adding the Spa Series Hands-Free Deluxe Massage and Spa Table by Custom Craftworks to your treatment rooms is not just an option; it's a necessity. Remember, in the world of wellness, the competition is fierce. So why not arm yourself with a table that not only meets but exceeds both your and your clients' expectations? This table proves that you really can have it all—style, comfort, and functionality.